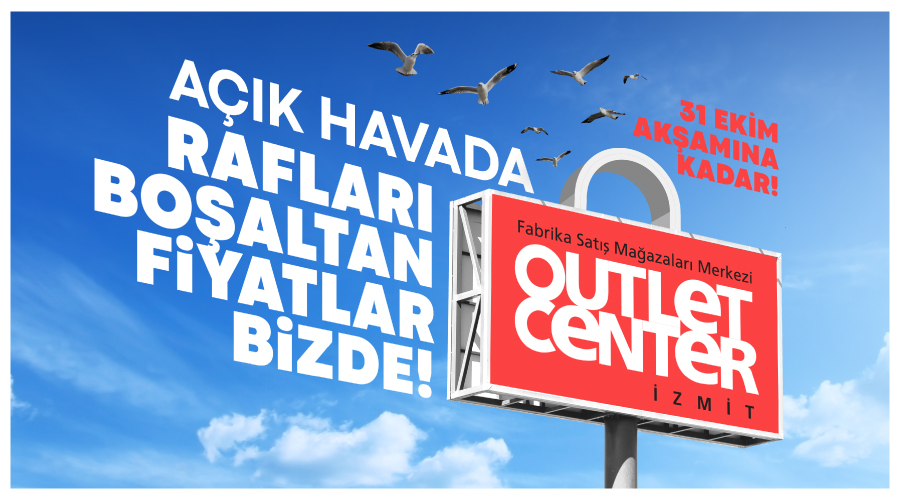 Prices Emptying Shelves Outdoors are at Outlet Center Izmit!
Come to Outlet Center Izmit until the evening of October 31st, enjoy the open air and incredible prices!
Turkey's first real outlet and having an open concept Mall Outlet Center in Izmit 01 - October 31, 2020 between the dates will be sold under famous brands in the outlet prices.
During the pandemic process we are in, Outlet Center Izmit, which continues its service by taking very strict measures for comfortable and safe shopping with the principle of "first measure, then shopping", continues to apply all necessary health measures meticulously in all its stores and in common areas.
In the opportunity sections prepared in the stores in accordance with the circulars regarding the pandemic; world-famous brands offer their old season products at cost prices.
Since 1997; Offering its customers a smart and quality shopping opportunity at real factory sales prices, the stores in Outlet Center Izmit offer their products for sale at prices below outlet prices in order to melt the products in their warehouses and shelves and make room for new products.
Choices For You;
ADIDAS OUTLET: Top Tracksuit: 149,90TL - Bottom Tracksuit: $ 69.99 - Shoe: $ 69.99 - Children's Shoes: 99,90TL - Bag: £ 0.99 (starting from prices)
ATASAY OUTLET: Diamond Necklace: 2.590,00TL - Diamond ring: 1.590,00TL - Child Bracelet: 530,00TL - Earring: 490,00TL (starting prices)
THE WORLD OF SHOES: Women's Shoes: 9,90TL - Men's shoes: 39,90TL (starting prices)
BAMBI: Women's Slippers: 48,00TL - Women's Sandals: $ 69.00 - Bag: 78,00TL - Women's Shoes: 89,00TL - Men's Slippers: 54,00TL - Men's Sandals: 96,00TL - Men's shoes: 99,00TL (starting prices)
BEYMEN BUSINESS: Men's T-shirt: 64,99TL - Men's Shirt: 64,99TL - Men's Pants: £ 6.99 - Jacket: 199.99TL - Suit (2 Pieces): 699.99 TL (starting prices)
CALVIN KLEIN: Women's T-shirt: 79,90TL - Women's Pants: 139.90TL - Women's Sweatshirt: 276,90 – Men's T-shirt: 104.90TL - Men's Shirt: 117.90TL - Men's Pants: 189.90TL - Shoe: 179,90TL (starting prices)
CENTO to: T-shirts (2 Piece): 99,00TL - Trousers (2 Pieces): 199,00TL - Shirt (2 Pieces): 199,00TL - Suit: 499,00TL - Jacket (2 Pieces): 449,00TL (starting prices)
COLIN'S: Women's T-shirt: 9,90TL - Women's Shirt: 29,90TL - Men's T-shirt: 19,90TL - Men's Shirt: 39,90TL (starting prices)
DOUBLE DEER KARACA: Trousers: $ 3.99 - Shirt: $ 3.99 - T-shirts: $ 3.99 - Jacket: 99,90TL - Coat: $ 69.99 - Suit: 499.90TL (starting prices)
defacto: Children's T-shirt: $ 9.99 - Children's Pants: $ 9.99 - Child Coat: £ 7.99 - Women's Sweaters: $ 9.99 - Women's Cardigans: £ 6.99 - Women's Tunic: £ 6.99 - Men's Shirt: £ 6.99 - Men's Pants: £ 9.99 (starting at prices)
DERİMOD WAREHOUSE: Women's Handbags: £ 9.99 - Women's Shoes: £ 6.99 - Men's shoes: £ 7.99 - Leather jacket: $ 199.99 (starting prices)
DUFY OUTLET: Men's Shirt: 49,90TL - Men's Knitwear: 49,90TL - Men's Pants: 69,90TL - Men's Sweatshirts: 79,90TL - Monte: 299,90TL (Prices starting at)
HATEMOĞLU: Shirt: 69,90TL - Trousers: 99,90TL - Jacket: $ 69.99 - Coat: 349.90TL - Suit: $ 129.00 (starting prices)
KEMAL TANCA: Shoe: 59,00TL / 79,00TL / 99,00TL / 129,00TL (starting prices)
LC WAIKIKI OUTLET: Women's Sweatshirt: £ 6.99 - Women's Pants: £ 6.99 - Women's Raincoat: £ 6.99 - Men's Shirt: 34,99TL – Men's Pants: $ 9.99 - Men's Coats: £ 7.99 (starting from prices)
LC WAIKIKI OUTLET KIDS: Shirt: $ 14.99 - T-shirts: $ 9.99 - Kazakh: £ 6.99 - Dress: £ 6.99 - Trousers: $ 9.99 (Prices starting at)
LEE COOPER: Women's T-shirt: $ 9.99 - Women's Pants: $ 69.99 - Men's T-shirt: £ 9.99 - Men's Pants: £ 7.99 - Men's Sweatshirts: $ 29.99 (Prices starting at)
LEVI'S: T-shirts: $ 9.99 - Sweatshirt: $ 69.99 - Woman Trousers: 69,90TL - Men's Pants: From £ 48.99 (from starting prices) 
MADAME MOSS: Knitwear Athlete: 19,90TL - T-shirts: 19,90TL - Kazakh: 34,90TL (starting prices)
BLUE: Shirt / Sweater (2 Pieces): 59.99 TL – Women's Pants (2 Pieces) Men's Trousers (2 Piece): Monte (2 Pieces): 199,99 TL - (starting prices)
MINEL OUTLET: Pants / Skirt: $ 30.00 - Shirt / Tunic: $ 30.00 - Cap / Top Coat: $ 20.00 - Monte: 150,00TL (starting prices)
NETWORK: Men's Shirt: 49,00TL - Men's T-shirt: 59,90TL - Men's Pants: 99,90TL - Jacket: 299,00TL - Suit: 349.90TL - Coat: 449.90TL (starting prices)
NIKE FACTORY STORE: T-shirts: 79,00TL - Shoe: 263,00TL (starting prices)
OUTLET VAKKO: Women's Scarf: $ 99.00 - Women's Blouse: 149,00TL - Women Dress: 179,00TL - Men's Shirt: $ 99.00 - Men's Knitwear: 109,00TL - Suit: 499,00TL (starting prices)
SHOE: Shoe: 75,00TL - Sandals: 75,00TL - Boat: 75,00TL (starting prices)
PANÇO OUTLET: T-shirts: $ 9.99 - Tights: 39,90TL - Sweatshirt: £ 9.99 (starting at prices)
PENTI OUTLET: Socks: $ 2.99 - Pajama Set: 39,95TL (starting prices)
PIERRE CARDIN: Shirt / T-shirt (2 pieces): 149,95TL - Trousers (2 Piece): 224.95TL - Jacket: 299.95TL - Monte: 349.95TL - Suit: 649.95TL (starting prices)
PALE: Women's Shirt: £ 9.99 - Women's Pants: £ 9.99 - Dress: £ 6.99 - Women's Jacket: £ 7.99 - Men's Pants: £ 9.99 - Male Shirt: £ 9.99 - Jacket: $ 1.99 - Men's Coats: 349.99TL - Suit: 39.99TL (Prices starting at)
SKECHERS: Bag: $ 19.95 - Children's Shoes: $ 47.00 - Women's Shoes: 209.95TL - Men's shoes: 249.95TL (starting prices)
TOMMY HILFIGER: Children's T-shirt: 59,90TL - T-shirts: 89,90TL - Trousers: 149,90TL - Shoe: 149,90TL -  Shirt: 179,90TL (starting prices)
TOYZZ SHOP: 0-3 Age Group Toy: 6.90TL - Blx: 49,90TL - Remote-controlled car: 49,90TL - Tool Set: 59.90TL (starting prices)
Turkcell: Airpod Case: £ 7.99 - In-Vehicle Phone Holder: £ 9.99 - Xiaomi Note 9 Mobile Phone: 2.750,00TL - Samsung A1 Cell Phone: 2.350,00TL (starting prices)
US POLO ASSN .: Children's Sweatshirts: 39.95TL - Women's Sweatshirt: 59.95TL - Men's Sweatshirts: 64.95TL - Men's Vest: 192.95TL (starting prices)
UNDER ARMOR: Children's T-shirt: 89,90TL - Child Bottom Tracksuit: £ 7.99 - Children's Shoes: $ 69.99 - Women's Shoes: 299,90TL - Men's shoes: 379.90TL - Hat: 49,90TL - Glove: 69,90TL (starting prices) 
WATSONS: Rexona Roll On: 9,99TL - Hair spray: 9,99TL - Toothpaste-Brush (set of 2): 9,99TL - Make-up Sponge: 19,99TL (prices starting from)