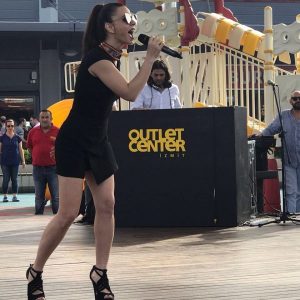 Outlet Center Izmit celebrated its 20th anniversary with great enthusiasm. The celebration was performed by singer Simge Sağın and his songs in a way that was unforgettable for the 20th year.
"We haven't compromised the real outlet concept for 20 years." Bayraktar Outlet Center Izmit Real Estate Development made an assessment about the 20th anniversary of General Director Osman İllez, "Bayraktar Group, a group of pioneers and Outlet Mall in Turkey. Our group, that about 30 years ago, Turkey's first AVM'si the Galleria and Carousel Shopping Mall Lifestyle Center was first launched. 20 years ago, the concept of Outlet Shopping Center was brought to our country for the first time. The difference of our center, which is the most important address of advantageous shopping for 20 years, is that all of the stores within it have real outlet prices. We have not compromised the real outlet concept for 20 years.
The real outlet means direct sales of the ring from the manufacturer. The true Outlet concept, which reflects store rent to a minimum of prices and offers customers the most advantageous way, means a profitable investment for producers and being preferred for consumers at all times. Our center has an important place as a socialization and life center for the people of Istanbul and the surrounding provinces as well as for the advantageous sale as well as for the people of Kocaeli yan.