The Owner of Cheapness Has Arrived!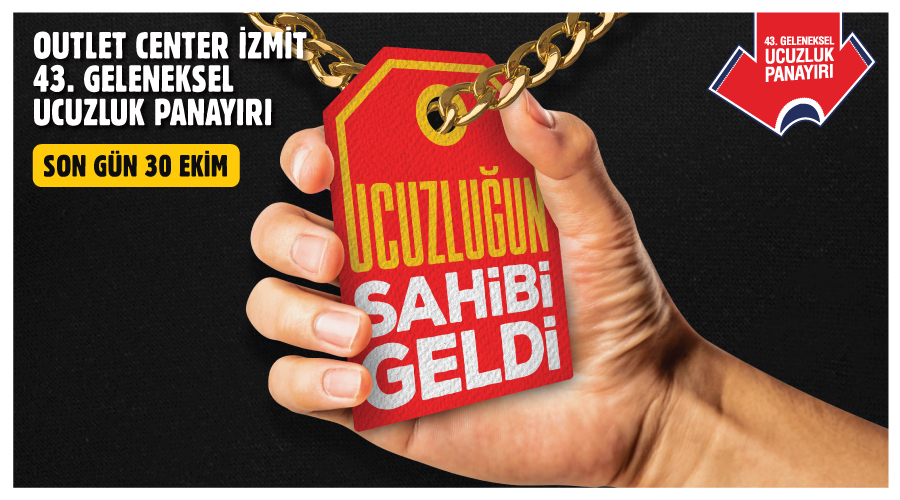 The best brands at Outlet Center İzmit 43rd Traditional Cheap Fair Fair with incredible fair prices!
The last day is October 30!
Turkey's first and true outlet center in İzmit Outlet Center, 43.'s of Sale Fair has become traditional campaign repeated every year, 11 - will take place between October 30, 2019. In the 43rd Traditional Cheap Fair Campaign which will continue until the evening of October 30; world famous brands are offered for sale again with incredible fair prices.
Since 1997; Outlet Center offers its customers a smart and high quality shopping opportunity with real factory sales prices.
Outlet's campaign is also offered at affordable prices.
Outlet Center In Izmit, which is traditionally repeated every year, the fair sells low prices and low sales prices in the central warehouses of the stores and manufacturers. That is why the consumer, who is aware of the fact that he cannot buy these products at these prices, shows great interest in the Campaign of Cheapness.
—
Outlet Center Izmit 43th Traditional Discounts Fair for you we choose;
ADIDAS OUTLET:  T-shirts: 79,99TL - Bottom Tracksuit: 129,99TL - Men's shoes: 149,99TL (prices starting from)
 ATASAY OUTLET: Earring: 340,00TL - Bracelet: 640,00TL - Ring: 840,00TL - Necklace: 875,00TL - Bracelet: $ 465.00 (starting prices)
 ATASUN OPTICS: Sunglasses: 89,00TL (starting prices)
 THE WORLD OF SHOES: Women's Shoes: 39,99TL - Men's shoes: 49,99TL - Children's Shoes: $ 9.99 (starting prices)
 BAMBI: Women's Shoes: 49,99TL - Men's shoes: £ 9.99 (Prices starting from)
BEYMEN BUSINESS: Shirt: 39,99TL - Trousers: 49,99TL - Jacket: 149,99TL - Suit: $ 49.99 (starting at) 
CALVIN KLEIN: T-shirts: 69,90TL - Shirt: 149,90TL - Tricot: 199,90TL - Women's Pants: 139,90TL - Men's Pants: 159,90TL - Coat: $ 199.00 (starting prices)
CENTO to: Shirt: 19,90TL - Trousers: 49,90TL - Jacket: 149,90TL - Coat: 149,90TL - Suit: From £ 48.99 (from starting prices)
COLIN'S: Women's Pants: 29,90TL - Men's Pants: 49,90TL (starting prices)
DOUBLE DEER KARACA: Trousers: 49,99TL - Shirts (3 Piece): 99,99TL - Knitwear (3 Piece): 99,99TL - Jacket: 99,99TL - Coat: 149,90TL – Suit: $ 3.99 (starting prices)
defacto: Women's T-shirt: 19,99TL - Shirt: 19,99TL - Jean Pants: 39,99TL - Sweatshirt: 39,99TL - Coat: £ 0.99 (from starting prices)
DERİMOD WAREHOUSE: Women's Shoes: 59,99TL – Men's shoes: 119,99TL - Jacket: 39.99TL (Prices starting at)
DUFY OUTLET: Pants (2 Pieces): 99,90TL - Shirt (2 Pieces): 99,90TL - Jacket: 149,90TL - Coat: 149,90TL - Suit: 299,90TL - Underwear (2 Pieces): US $ 6 (starting prices)
ENZA HOME: Pillow: 25,00TL - Single Comforter: 73,00TL - Linens set: 200,00TL (starting prices)
FLOOR: Women's Shoes: 19,99TL - Men's shoes: 29,99TL - Children's Shoes: 29,99TL - Bag: £ 0.99 (starting prices)
HATEMOĞLU: T-shirts: 49,90TL - Trousers: 69,90TL - Shirt: 69,90TL - Jacket: 199,90TL - Suit: $ 129.00 (starting prices)
HUMMEL: Bag: 65,00TL - Bottom Tracksuit: 80,00TL - Shoe: 129,95TL - Children's Tracksuit: 60,00TL (prices starting from)
KEMAL TANCA: Women's Shoes: $ 39.00 / $ 50.00 / $ 50.00 - Men's shoes: $ 46.00 / $ 47.00 / $ 65.00 (starting prices)
LC WAIKIKI OUTLET: Sweatshirt: 19,90TL - Women's Shirt: 24,90TL - Women's Cardigan: 29,95TL - Trousers: 29,99TL – Women's Coats: 69,99TL –  Men's Shirt: 34,99TL - Men's Jacket: £ 7.99 (from starting prices)
LC WAIKIKI OUTLET KIDS: Sweatshirt: 19,99TL - Tights: 19,99TL - Sweater: 24,99TL - Tracksuit: 29,99TL - Trousers: 29,99TL - Coat: £ 0.99 (starting prices)
LEE COOPER: Kazakh: 49,99TL - Trousers: 99,99TL - Shirt: 99,99TL - Coat: $ 99.99 (starting prices)
LEVI'S: Shirt: 49,99TL - Trousers: 99,99TL - Jeans jacket: $ 3.99 (starting prices)
MADAME MOSS: Body: 9,90TL - Tights: 19,99TL - Tricot: 25,90TL - Tunic: 34,90TL - Trousers: 49,90TL (starting prices)
BLUE: Women's Dresses (2 Pieces): 39,99TL - Women's Pants (2 Pieces): 79,99TL - Men's Pants (2 Pieces): 99,99TL - T-shirt (2 Pieces): 29,99TL - Coat. (2 Pieces): 199,99TL - Shirt (2 Pieces): £ 9.99 (Prices starting from)
MINEL OUTLET: Tunic Shirts: 49,90TL - Pants and Skirts: 49,90TL - Tricot: 75,90TL - I'm sorry. 99,90TL - Coat: 149,90TL (prices starting from)
NETWORK: T-shirts: 59,99TL - Tricot: 69,99TL - Shirt: 69,99TL - Trousers: 99,99TL - Shoe: 99,99TL - Team Dress: $ 99.99 (starting prices)
NIKE FACTORY STORE: T-shirts: 59,90TL - Tights: 129,90TL - Children's Shoes: 159,90TL - Bottom Tracksuit: 174,90TL - Shoe: $ 88.00 (starting prices)
PALLET SHOES: Shoe: 74,90TL - Boots: 124,90TL (starting prices)
PANÇO OUTLET: T-shirts: 9,90TL - Body: 9,90TL - Trousers: 19,90TL - Shoe: 29,90TL - Coat: 89,90TL (starting prices)
PENTI OUTLET: Socks: 1,95TL - Bra: 29,95TL - Pyjamas: 39,95TL (starting prices)
PIERRE CARDIN: T-shirts: 49,99TL - Shirt: 59,99TL - Sweater: 69,99TL - Trousers: 69,99TL - Cardigan: 99,99TL - Jacket: 149,99TL - Coat: 249,99TL - Suit: $ 99.99 (starting prices)
PUMA: T-shirts: 30,00TL - Trousers: 75,00TL - Sweatshirt: 75,00TL (starting prices)
PALE: Women's Blouse: 49,90TL - Women's Shirt: 49,90TL - Women's Pants: 59,90TL - Skirt: 59,90TL - Men's Pants: 79,90TL - Suit: $ 129.00 (starting prices)
SKECHERS: Women's Shoes: 89,70TL - Men's shoes: 107,70TL - Children's Shoes: $ 25.00 (starting prices)
TERGAN LEATHER: Women's Shoes: 79,99TL - Men's shoes: 99,99TL - Boots: $ 49.99 (starting at)
TIFFANY & TOMATO: Blouse: 29,99TL - Skirt: 39,99TL - Dress: 59,99TL - Coat: £ 7.99 (from starting prices)
TOMMY HILFIGER: T-shirts: 59,90TL - Women's Pants: 99,90TL - Men's Pants: 129,90TL - Shirt: 129,90TL - Children's Shoes: 79,90TL - Shoe: £ 0.99 (starting from prices)
TOYZZ SHOP: Baby: 19,90TL - Remote-controlled car: 39,99TL - Scooter: 49,99TL - Battery Powered Car: 39.99TL (Prices starting at)
US POLO ASSN .: Men's Pants: 69,90TL - Women's Shirts (2 Piece): 89,90TL - Sweatshirt (2 Piece): 89,99TL –  Shirt (2 Pieces): 99,99TL - Women's Pants (2 Piece): – Children's Sweatshirts (3 Piece): $ 0.99 (starting prices)
UNDER ARMOR: T-shirts: 69,90TL - Tights: 89,90TL - Bottom Tracksuit: 129,90TL - Upper Tracksuit: 129,90TL - Shoe: Rp1,305 (starting prices)
WATSONS: Hair Care Oil: 6,90TL - Hair dye: 6,90TL - Shaving foam: 11,90TL - Lipstick: 19,90TL - Makeup Brush: 19,90TL (prices starting from)