Mother's Day will be celebrated with fun activities in Outlet Center Izmit.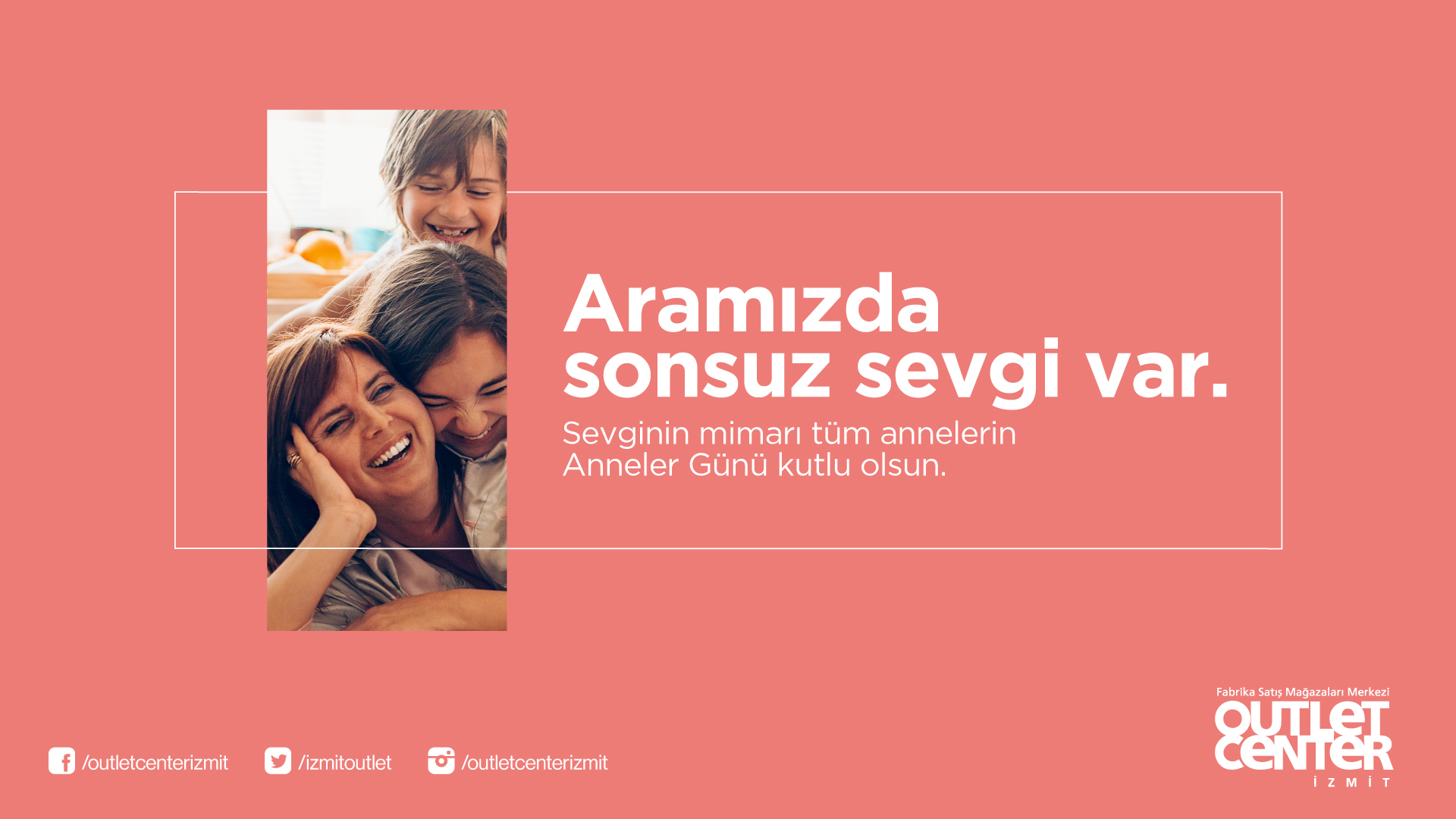 Mothers and their children will participate in entertaining competitions, and at the end of the competitions, Outlet Center Izmit will win very nice gifts.
May 12, 2019 Sunday Mothers' Day will continue until the evening hours Outlet Center Izmit Mother's Day activities; animators will distribute flowers to mothers and the band will perform the most beautiful songs for mothers.
Turkey's first and real outlet Outlet Center Izmit, Mother's Day is Sunday, May 12, 2019 waiting for you to share your enthusiasm.
12 May 2019 Sunday Mother's Day Outlet Center İzmit Event Program:
(If weather conditions are appropriate)
15.00 - 16.00 Music Band Concert,
16.00 - 17.00 Award-winning competitions for mothers with children,
12.00 - 18.00 Animation activity for children .00 Clowns ... Distribution of flowers to mothers An
We chose for Mother's Day;
ADIDAS: Women's Shoes: 179,90TL (starting prices)
ATASAY OUTLET: 0.19 Carat Diamond Necklace: 1.490,00TL - 0,20 Carat Diamond Ring: 1.690,00TL – 0,21 Oval Diamond Ring: 1.990,00TL (starting prices)
THE WORLD OF SHOES: Women's Shoes: $ 9.99 (Prices starting at)
BAMBI: Women's Shoes: 49,90TL - Bag: 89,90TL (starting prices)
CALVIN KLEIN: Women Wallet: 99,90TL – Women's Handbags: 339,90TL (starting prices)
COLIN'S: Women's T-shirt: 34,90TL - Women's Shirt: 59,95TL (starting prices)
defacto: Women's Blouse: 14,99TL – Women's Shirt: 29,99TL – Women's Pants: £ 9.99 (starting at prices)
DERİMOD WAREHOUSE: Women's Shoes: 129,00TL – Bag: 129,00TL (Prices starting at)
FLOOR: Women's Shoes: 49,99TL - Bag: £ 9.99 (starting at prices)
HUMMEL: Women's Shoes: 120,00TL (starting prices)
KEMAL TANCA: Women's Shoes: $ 5.99 / $ 9.99 – Bag: $ 3.99 (starting prices)
LC WAIKIKI OUTLET: Women's T-shirt: 8,90TL – Skirt: 19,90TL - Blouse: 24,90TL (starting prices)
LEE COOPER: Women's Pants: 70,00TL (starting prices)
LEVI'S: Women's T-shirt: £ 0.99 (from starting prices)
MADAME MOSS: Body: 19,90TL - Dress: 49,90TL – Tunic: 49,90TL (starting prices)
BLUE: Women's T-shirt  (2 Piece): – Women's Pants (2 Piece): – Women's Shirt:  £ 0.99 (from starting prices)
MINEL OUTLET: Wrap: 10,00TL – Tunic: 49,90TL – Container: £ 0.99 (starting from prices)
NETWORK: Women's Shirt: 79,90TL – Women's Pants: 119,00TL (prices starting from)
NIKE FACTORY STORE: Women's Shoes: 231,90TL (prices starting from)
OUTLET VAKKO: Scarf: 99,99TL – Bag: 499,99TL (prices starting from)
PALLET SHOES: Women's Shoes: 39,90TL – Bag: $ 89.00 (from starting prices)
PENTI OUTLET: Summer Set Pajamas: 62,96TL - Dressing gown: 111.96TL (prices starting from)
PUMA: Women's Shoes: 160,00TL (starting prices)
SKECHERS: Women's Shoes: 210,00TL (starting prices)
TERGI by: Women's Shoes: 39,00TL / 59,00TL / 69,00TL - Bag: 271,00TL (starting prices)
TIFFANY & TOMATO: Dress: 39,99TL – Women's Pants: £ 9.99 (starting at prices)
TOMMY HILFIGER: Women's T-shirt: 69,90TL – Skirt? shorts: 69,99TL – Women's Pants:  $ 2.99 (starting prices)
US POLO ASSN .: Women's Shirt: 90,00TL – Women's Pants: 170,00TL – Bag: £ 0.99 (from starting prices)
UNDER ARMOR: Women's Shoes: 179,90TL (starting prices)
WATSONS: Headlight: 9,99TL – Perfume: $ 9.99 (starting prices)
ENZA HOME / YATAS: Blanket (Double): 98,90TL – Linens set (Double): – Pike Team (Double): £ 48.00 (starting from prices)