Turkey's first real outlet center Outlet Center Izmit,
Feast of Ramadan Ready to go.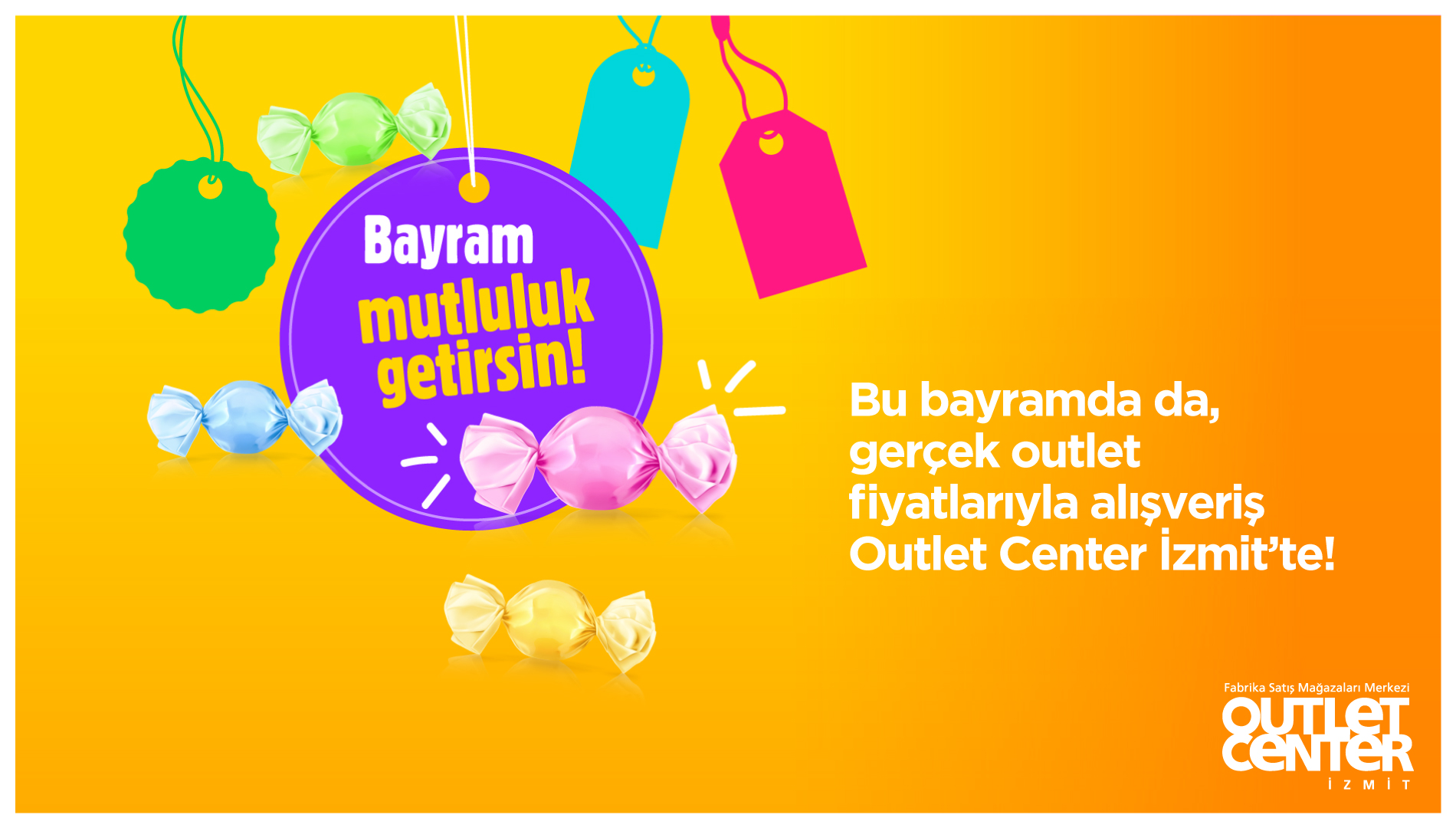 The outlet prices for your holiday needs and shopping awaits your customers in Outlet Center Izmit's stores.
Outlet Center Izmit is offering a comfortable shopping opportunity after 23:00 as of May 25, 2019, Monday, June 03, 2019 Monday. On the first day of Ramadan Feast, the opening time will be 12.00 on Tuesday, 04.00 pm and the closing time will be 22.00. The second day of the Ramadan Feast will be held on Wednesday, June 05, 2019, with the normal working hours of 10.00 - 22.00.
If weather conditions are appropriate Outlet Center Izmit Ramadan Feast Event Program:
Tuesday, June 04, 2019 (First Day of Ramadan)
17.00 - 19.00 Music Group Concert 17
13.00 - 19.00 Animation activities for children;
Clowns with sausage balloon shapes, face painting and candy & chocolate distribution pal
05 June 2919 Wednesday (Second Day of Ramadan Feast)
17.00 - 19.00 Music Group Concert 17
13.00 - 19.00 Animation activities for children;
Clowns with sausage balloon shapes, face painting and candy & chocolate distribution pal
14.00 - 17.00 Fun shows with Tahtabacak and Jonklor 14
06 June 2919 Thursday (Third Day of Ramadan Feast)
17.00 - 19.00 Music Group Concert 17
13.00 - 19.00 Animation activities for children;
Clowns with sausage balloon shapes, face painting and candy & chocolate distribution pal
We have chosen for you the Eid al-Fitr;
ADIDAS OUTLET: Women's Shoes: 229,00TL - Women's T-shirt: 99,90TL - Men's shoes: 229,00TL - Men's T-shirt: £ 0.99 (starting from prices)
ATASAY OUTLET:  Earring: 290,00TL - Necklace: 499,00TL (starting prices)
ATASUN OPTICS: Sunglasses: 89,00TL (starting prices)
THE WORLD OF SHOES: Women's Shoes: 19,99TL - Men's shoes: 29,99TL - Children's Shoes: 9,99TL (starting prices)
BAMBI: Women's Shoes: 48,99TL - Men's shoes: £ 7.99 (from starting prices)
BEYMEN BUSINESS: T-shirt (2 Pieces): 99,99TL - Shirt: 99,99TL - Suits (3 pieces): £ 1.99 (starting at prices)
CALVIN KLEIN: Women's Pants: 139,99TL - Men's T-shirt: 89,99TL - Men's Pants: $ 3.99 (starting prices)
CENTO to: Shirt: 29,90TL - Trousers: 49,90TL - Suit: 359,90TL (starting prices)
COLIN'S: Men's T-shirt: 34,99TL - Men's Pants: 119,99TL - Women's Pants: £ 0.99 (from starting prices)
DOUBLE DEER KARACA: T-shirts: 59,90TL - Shirt: 99,90TL - Trousers: 124,90TL (starting prices)
defacto: Women's T-shirt: 19,99TL - Women's Pants: 39,99TL - Men's Shirt: 29,99TL - Men's Pants: £ 9.99 (starting at prices)
DERİMOD WAREHOUSE: Women's Shoes: 119,99TL - Men's shoes: 129,99TL - Bag: 99,99TL - Jacket: 499.99 (starting prices)
DUFY OUTLET: Shirt: 49,90TL - T-shirt: 79,90TL - Jacket: From £ 48.99 (from starting prices)
ENZA HOME: Pillow: $ 15.00 - Single Comforter: 70,00TL (starting prices)
FLOOR: Women's Shoes: 49,99TL - Men's shoes: 69,99TL - Children's Shoes: £ 9.99 (starting at prices)
HATEMOĞLU: Shirt: 69,99TL - Trousers: 89,99TL - Suit: 39.99TL (Prices starting at)
HUMMEL: T-shirts: £ 6.99 - Bottom Tracksuit: £ 6.99 - Children's Shoes: £ 6.99 - Shoe: $ 0.99 (starting prices)
KEMAL TANCA: Shoe: £ 0.99 (from starting prices)
LC WAIKIKI OUTLET: Dress: 29,90TL - Men's Pants: 39,90TL - Men's T-shirt: 24,90TL - Children's T-shirt: 14,90TL - Children's Shorts: $ 9.99 (Prices starting at)
LEE COOPER: Women's T-shirt: 44,99TL - Women's Pants: 89,99TL - Men's T-shirt: 44,99TL - Men's Pants: 59,99TL (Prices starting at)
LEVI'S: T-shirts: 99,99TL - Trousers: $ 9.99 (starting prices)
MADAME MOSS: Body: 12,90TL - T-shirt: 19,99TL - Trousers: 49,90TL - Linen trousers: 59,90TL - Jacket: 59,90TL (starting prices)
BLUE: Women's Pants (2 Pieces): 129,99TL - Men's Pants (2 Pieces): 159,99TL - Men's Shirt (2 Pieces): £ 0.99 (from starting prices)
MINEL OUTLET: Shawl / Scarf: 20,00TL - Trousers: 50,00TL - Tunic: 50,00TL - I'm sorry. 200,00TL (starting prices)
NETWORK: Women's Shirt: 89,99TL - Women's Pants: 129,99TL - Men's T-shirt: 49,99TL - Men's Shirt: $ 2.99 (starting prices)
NIKE FACTORY STORE: T-shirts: 79,90TL - Bottom Tracksuit: 176,90TL - Children's Shoes: 197,90TL - Shoe: $ 89.00 (from starting prices)
OUTLET VAKKO: Scarf: 99,99TL - Blouse: 129,00TL - Men's Shirt: 79,00TL (starting prices)
PALLET SHOES: Women's Shoes: 30,00TL - Men's shoes: 75,00TL (starting prices)
PANÇO OUTLET: T-shirts: 15,90TL - Trousers: 29,50TL - Shirt: 24,50TL - Shoe: 29,95TL - Dress: 39,95TL (starting prices)
PENTI OUTLET: Socks: 5,99TL - Pyjamas: 39,99TL - Bra: £ 9.99 (starting at prices)
PUMA: Women's Shoes: 130,00TL - Men's T-shirt: 75,00TL - Men's shoes: 180,00TL (starting prices)
PALE: Tie (3 Pieces): 59,99TL - Trousers: 74,99 - Shirt: 74,99TL - Suit: 35.99TL (Prices starting at)
SKECHERS: Women's Shoes: 199,00TL - Men's shoes: 239,00TL - Children's Shoes: $ 65.00 (starting prices)
TERGAN LEATHER: Women's Shoes: 39,00TL / 49,00TL / 59,00TL - Men's shoes: 99,00TL / 109,00TL / 119,00TL (starting prices)
TIFFANY & TOMATO: Women's T-shirt: 19,99TL - Dress: £ 9.99 (starting at prices)
TOMMY HILFIGER: Women's Shirt: 99,90TL - Women's Pants: 99,90TL - Men's Shirt: 129,90TL - Men's Pants: 129,90TL (starting prices)
TOYZZ SHOP: Play dough: 29,99TL - Princess Baby: 49,99TL - Scooter: £ 9.99 (Prices starting from)
US POLO ASSN .: Women's T-shirt: 69,95TL - Men's Shirt: 49,99TL - Trousers: 209,95TL (starting prices)
UNDER ARMOR: T-shirts: 59,99TL - Women's Shoes: 159,90TL - Men's shoes: 59,99TL (Prices starting at)
WATSONS: Mask Types: 4,99TL - Tooth paste: 10,90TL - Elidor Shampoo: 11,90TL (starting prices)