Valentine's Day at Outlet Center Izmit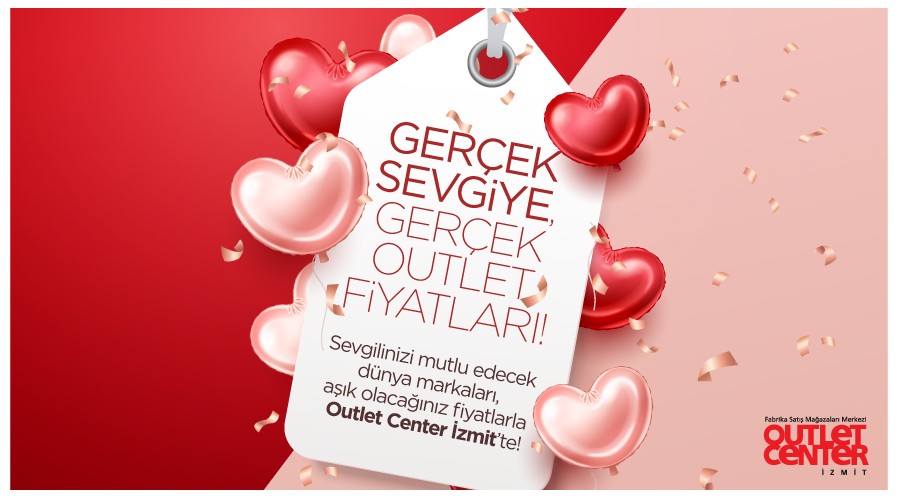 World brands that will make your lover happy at Outlet Center Izmit with the prices you will fall in love with!
Real Love, Real Outlet Prices!
For Valentine's Day shopping; Those who come to Outlet Center Izmit to buy world brands with real outlet prices will enjoy shopping.
Outlet Center İzmit; It will add pleasure to advantageous shopping with pleasant events prepared for 14 February Valentine's Day. If the weather conditions are suitable, within the scope of the event; Flowers will be distributed to the couples in the center, and the romantic trio of the traveling trio music group will be performed according to the day.
Toys from the bag, hours perfume, jewelry to cosmetics, with its wide range of products to textiles from shoes more than 200 brands that meet under the same roof Turkey's first and real outlet Outlet Center in Izmit, dear; As on 365 days of the year, on February 14, Valentine's Day, they will be able to buy their gifts at real outlet prices.
Friday, February 14, 2020 Outlet Center Izmit Valentine's Day event program:
(If weather conditions are appropriate)
Trio Music Group (14.00 - 17.00)
Flower distribution (12.00 - 18.00)
—
Outlet Center Izmit stores Because of Valentine's Day, we have chosen for you;
ADIDAS OUTLET: T-shirts: 149,90TL - Bottom Tracksuit: 199,90TL – Women's Shoes: 229,90TL - Men's shoes: 249,90TL (starting prices)
ATASAY OUTLET: Diamond Baguette Ring: 990,00TL - Diamond Necklace: 990,00TL - Diamond Solitaire: 2.890,00TL (starting prices)
ATASUN OPTICS: Sunglasses: 89,00TL (starting prices)
THE WORLD OF SHOES: Women's Boots: £ 9.99 - Men's shoes: 79,09TL - Men's Boots: $ 3.99 (starting prices)
BAMBI: Women's Shoes: 59,99TL - Women's Boots: 89,99TL - Men's shoes: 129,99TL – Bag: 48.00TL (starting prices)
BEYMEN BUSINESS: Shirt: 69,99TL - Tricot: 79,99TL - Jacket: 199,99TL - Coat: 39.99TL (Prices starting at)
CALVIN KLEIN: T-shirts: 89,90TL – Women's Jean Pants: 119,90TL - Men's Shirt: 129,90TL - Men's Jean Pants: 159,90TL - Men's Outerwear: 299,90TL (prices starting from)
CENTO to: Shirt: 49,00TL - Tricot: 79,00TL - Trousers: 99,00TL - Jacket: 249,00TL - Suit: 299,00TL (starting prices)
COLIN'S: T-shirts: 19,90TL - Sweatshirt: 39,90TL - Women's Jean Pants (2 pieces): 149,90TL - Men's Jean Pants (2 Pieces): 189,90TL (starting prices)
DOUBLE DEER KARACA: Women's Sweater: 99,99TL – Shirt (2 pieces): 149,90TL - Trousers (2 Pieces): $ 0.99 - Coat: 299,99TL - Suit: 309,99TL - Coat: 499.99 (starting prices)
defacto: Women's Shirt: 29,99TL - Women's Tunic: 39,99TL - Women's Pants: 49,99TL - Woman Monte: 79,99TL - Men's Sweatshirt: 29,99TL - Men's Pants: 49,99TL - Men's jacket: 99,99TL - Male Monte: 99,99TL (prices starting from)
DERİMOD WAREHOUSE: Shoe: 129,99TL - Bag: $ 49.99 (starting at)
DUFY OUTLET: Wallet: 49,90TL - Shirt: 59,99TL - Trousers: £ 7.99 - Belt Tie Set: 174,95TL - Jacket: 249,99TL - Suit: $ 99.99 (starting prices)
ENZA HOME: Pillow: 19,90TL - Blanket (Double): 89,90TL (starting prices)
FLOOR: Sport shoes: 39,99TL - Women's Boots: 59,99TL - Men's Boots: $ 39.99 (starting prices)
HATEMOĞLU: Shirt: 79,99TL - Trousers: 99,99TL - Jacket: 399,99TL - Suit: 499.99 (starting prices)
HUMMEL: T-shirts: 50,00TL - Tracksuit (Over / Under): 80,00TL - Shoe: 179,90TL (starting prices)
KEMAL TANCA: Women's Shoes: 179,00TL - Men's shoes: 159,00TL (starting prices)
LC WAIKIKI OUTLET: Women's Pants: 24,99TL - Women's Blouse: 24,99TL - Women's Sweatshirt: 29,99TL - Men's Pants: 29,99TL - Men's Sweatshirt: 39,99TL - Men's jacket: 69,99TL (prices starting from)
LEE COOPER: T-shirts: 59,99TL - Women's Pants: 119,99TL - Sweater: 129,99TL - Sweatshirt: 139,99TL - Men's Pants: $ 39.99 (starting prices)
LEVI'S: Women's T-shirt: 79,99TL - Woman Sweatshirt: 149,99TL - Men's T-shirt: 59,99TL - Men's Sweatshirt: 139,99TL - Trousers: 149,99TL  (prices starting from)
MADAME MOSS: Tights: 29,90TL – Shirt: 39,90TL - Trousers: 59,90TL - Dress: 69,90TL (starting prices)
BLUE: T-shirts (2 Piece): – Women's Pants (2 Pieces): 229,99TL - Men's Shirts (2 Pieces): 179,99TL - Men's Pants (2 Piece): $ 3.99 (starting prices)
MINEL OUTLET: Shirt: 50,00TL - Trousers: 50,00TL - Coat: 100,00TL (starting prices)
NETWORK: Women's Blouse: 89,99TL - Men's Shirt: 59,99TL - Men's Sweaters: 69,99TL - Bag: 149,99TL - Suit: 499.99 (starting prices)
NIKE FACTORY STORE: Women's T-shirt: 79,90TL - Tights: 99,90TL – Women's Shoes: 169,90TL - Men's shoes: Rs.19,95 (starting at)
OUTLET VAKKO: Blouse: 139,99TL - Scarf: 149,99TL - Dress: 224,99TL - Overcoat: 569,99TL - Shirt: 92,00TL – Trousers: 137,00TL - Jacket: 180,00TL (starting prices)
PALLET SHOES: Shoe: 50,00TL / 100,00TL (starting prices)
PENTI OUTLET: Panduf: 23,99TL – Underwear: 29,99TL – Pajama Set: £ 9.99 (starting at prices)
PIERRE CARDIN: Kazakh: 80,00TL - Women's Pants: 100,00TL – Men's Shirts (3 pieces): 100,00TL - Men's jacket: 350,00TL - Suit: 500,00TL (starting prices)
PUMA: T-shirts: 79,90TL - Women's Shoes: 189,90TL - Men's shoes: 249,90TL (starting prices)
PALE: Women's Blouse: 34,99TL - Women's Pants: 34,99TL - Dress: 41,99TL - Shirt: 49,99TL - Men's Pants: 69,99TL - Men's jacket: $ 3.99 (starting prices)
SKECHERS: T-shirts: 34,95TL - Tights: 84,95TL - Sweatshirt: 124,95TL - Women's Shoes: 143,70 – Men's shoes: 249,50TL (starting prices)
TIFFANY & TOMATO: Skirt: 34,99TL - Trousers: 39,99TL - Tricot: 39,99TL - Sweater: 64,99TL – Coat: 124,99TL - Perfume: 19,90TL (starting prices)
TOMMY HILFIGER: Women's Shirt: 129,90TL - Trousers: 129,90TL - Men's T-shirt: 79,90TL - Shoe: £ 0.99 (from starting prices)
TOYZZ SHOP: Snow globe: 36,99TL - Plush Bear: 59.99TL / 129.99TL / 269.99TL (starting prices)
Turkcell: Headphone: 39,99TL - Ring Case: 49,99TL - Redmi Note 8 Pro: 2.500,00TL (starting prices)
US POLO ASSN .: Men's Shirt: 99,95TL - Male Chino Pants: 110,00TL (Prices starting from)
UNDER ARMOR: Women's Shoes: 269,90TL - Men's shoes: 339,90TL - Bag: From £ 48.99 (from starting prices)
WATSONS: Perfume: 27,95TL - Mini Makeup Bag: Rs.19,95 (starting at)