Outlet Center in Izmit Valentine's Day
Brands you will love
Valentine's Day outlet prices Outlet Center is in Izmit.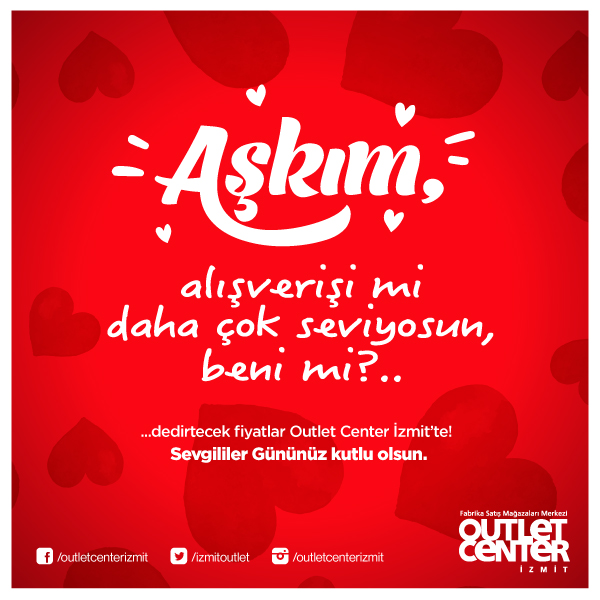 Valentine's Day for your shopping countless options await you at outlet prices.
For Valentine's Day shopping; Outlet Center Izmit, where branded and affordable products are offered for sale, will enjoy the shopping.
Outlet Center Izmit; 14 February will be a pleasure to enjoy shopping with pleasant events prepared for Valentine's Day. In case the weather conditions are suitable, couples will be able to draw their caricatures and accompany the romantic songs of the trio music group during the flower distribution in the center.
Outlet Center in Izmit where more than 200 brands meet on the same roof with a wide range of products from toys to mobile phones, watches to tablets, jewelry to cosmetics, shoes to textiles, lovers; Just as 365 days a year, 14 February Valentine's Day will also be able to receive gifts at factory sales prices.
14 February 2019 Thursday Outlet Center Izmit Valentine's Day event schedule:
(If weather conditions are appropriate)
Trio Music Group Tr Cartoonist… Flower distribution Çiçek
Because of Valentine's Day, we have chosen for you;
ADIDAS OUTLET: Women's Shoes: 192,00TL - Women's T-shirt: 49,90TL - Men's shoes: 249,90TL - Men's T-shirt: £ 0.99 (starting from prices)

ATASAY OUTLET: Golden necklace: 300,00TL - Diamond ring: - Diamond Necklace: 990,00TL (starting prices)
THE WORLD OF SHOES: Women's Shoes: 49,90TL - Men's shoes: 59,90TL (starting prices)
BAMBI: Women's Shoes: 49,90TL - Men's shoes: 132,00TL (prices starting from)
BEYMEN BUSINESS / ALTINYILDIZ CLASSICS: Shirt (2 Piece): - Trousers: 99,99TL - Knitwear (2 Piece): US $ 14.99 (starting prices)
COLIN'S: Women's Shirt: 39,95TL - Women's Pants: 49,95TL - Men's Shirt: 39,95TL - Men's Pants: $ 89.00 (starting prices)
DOUBLE DEER KARACA: Men's Shirt: 69,99TL - Men's Pants: £ 7.99 (from starting prices)
defacto: Women's Shirt: 19,99TL - Women's Pants: £ 6.99 - Men's Pants: $ 9.99 - Men's Shirt: $ 9.99 (starting prices)
DERİMOD WAREHOUSE: Women's Shoes: 99,90TL - Men's shoes: 149,90TL (starting prices)
DUFY OUTLET: Shirt: 59,99TL - Trousers: £ 0.99 (from starting prices)
ENZA HOME: Linens set (Double): £ 2.99 (starting from prices)
FLOOR: Women's & Men's Shoes: $ 9.99 (starting prices)
HATEMOĞLU: Men's Shirt: 49,90TL - Men's Pants: 89,90TL (starting prices)
HUMMEL: Sweatshirt: 89,95TL - Shoe: 120,00TL (starting prices)
KEMAL TANCA: Women's Shoes: 99,99TL - Men's shoes: $ 29.99 (Prices starting at)
LC WAIKIKI OUTLET: Women's Sweatshirt: 29,90TL - Women's Pants: 39,90TL - Men's Shirt: 39,95TL - Men's Pants: 49,95TL (starting prices)
LEE COOPER: Men's Shirt: 119,99TL - Men's Pants: £ 7.99 (starting from prices)
LEVI'S: Shirt: 109,99TL - Trousers: £ 7.99 (starting from prices)
MADAME MOSS: Nubuck Vest: 14,90TL - Plush Vest: 29,90TL - Dress: 49,90TL (starting prices)
BLUE: Women's Shirts (2 Piece): - Men's Shirts (2 Piece): - Men's Pants (2 Piece): $ 3.99 (starting prices)
MINEL OUTLET: Wrap: 9,99TL - Scarf: $ 9.99 (starting prices)
NETWORK / FACTORY: Women's Sweater: 79,00TL - Women's Pants: 139,00TL - Men's Sweater: 79,00TL - Men's Shirt: 99,00TL (starting prices)
NIKE FACTORY STORE: Tights: 79,90TL - Women's Shoes: 222,90TL - Men's T-shirt: 74,90TL - Men's shoes: 194,90TL
OUTLET VAKKO: Scarf: 79,00TL - Women's Shoes: 69,00TL - Men's Shirt: 79,00TL - Men's Jean Pants: 151,00TL (Prices starting at)
PALLET SHOES: Women's Shoes: 50,00TL - Men's shoes: 50,00TL (starting prices)
PENTI OUTLET: Home Socks: 7,50TL - Panduf: 24,99TL - Pajama Set (From 3s): £ 29.99 (starting prices)
PUMA: Women's Bottom Tracksuits: 130,00TL - Men's Sub Sweatpants: 100,00TL - Shoe: 160,00TL (starting prices)
SARAR: Men's Shirt: 71,99TL - Men's Canvas Pants: £ 7.99 (from starting prices)
SKECHERS: Women's Shoes: 179,50TL - Men's shoes: $ 99.00 (from starting prices)
TERGAN LEATHER: Women's Shoes: 59,99TL - Men's shoes: $ 29.99 (starting prices)
TIFFANY & TOMATO: Women's Sweaters: 39,99TL - Women's Pants: 39,99TL - Women's Coat: £ 0.99 (starting prices)
TOMMY HILFIGER: Women's Shirt: 99,90TL - Women's Pants: 109,90TL - Men's Shirt: 129,90TL - Men's Pants: 149,90TL (starting prices)
TOYZZ SHOP: Bear with Bear Heart: 66,90TL - Photo Snow Globe: £ 9.99 (from starting prices)
US POLO ASSN .:  Knitwear: 55,00TL - Shirt: 70,00TL - Trousers: 110,00TL (Prices starting from)
UNDER ARMOR: Women's T-shirt: 89,90TL - Women's Shoes: 229,90TL - Men's T-shirt: 79,90TL - Men's shoes: 179,90TL (starting prices)
WATSONS: Kruidvat Women's Fragrance: 26,90TL - Kruidvat Men's Fragrance: 29,90TL - Watsons Deodorant: 5,99TL - Pure Beauty BB Cream / CC Cream: $ 9.99 (Prices starting at)