It's the best time in winter: Long live the semester break!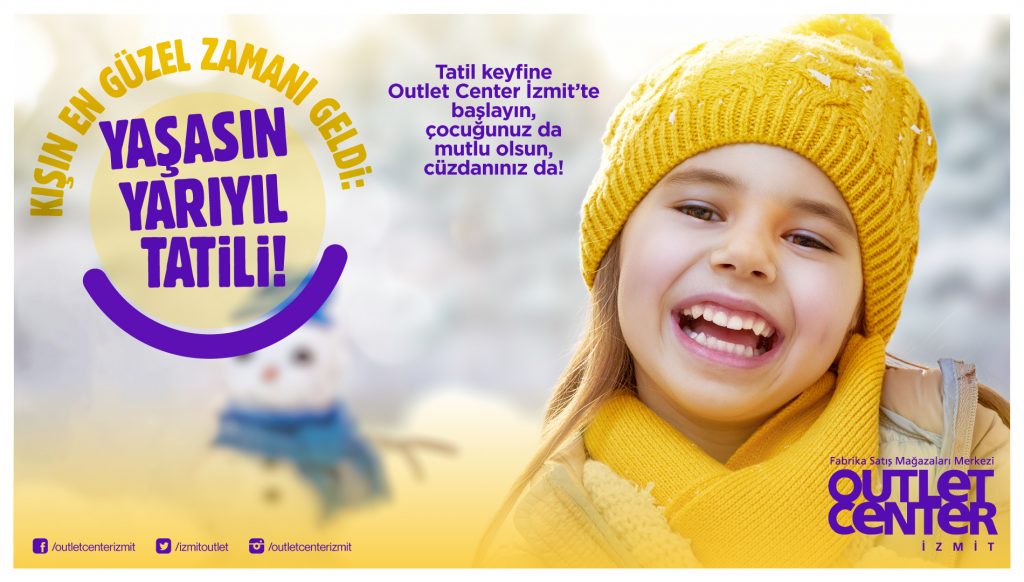 Start your holiday in Outlet Center Izmit, and your child is happy and your wallet!
Students will be excited about completing the 2018 - 2019 academic year Outlet Center will live in Izmit.
Outlet Center Izmit, which is preferred by its customers in order to live on both special and important days, both inexpensive and enjoyable; as well as profitable shopping in every period; especially this semester students are ready to increase the excitement of semester breaks for students.
During the semester, parents can shop, and if the weather conditions are appropriate, the children will be able to participate in animation activities. Watch the bubble show with the bubble show. Also, jugglers and clowns will be able to take part in their fun shows. Face painting and sausage will be able to get their balloons shaped balloons.
 Outlet Center Izmit stores for your half-year holiday because we have chosen for you;
 ADIDAS OUTLET: Children's Tracksuit Team: 99,90TL - Children's Shoes: 129,90TL (starting prices)
 THE WORLD OF SHOES: Children's Shoes: £ 9.99 (starting at prices)
 defacto: Girls' Trousers: 19,99TL - Girl's Sweatshirt: 14,99TL - Girls' Coats: 69,99TL - Boys' Trousers: 19,99TL - Boy Sweatshirt: - Boys' Coats: £ 0.99 (starting prices)
 FLOOR: Children's Shoes: $ 9.99 (starting prices)
 HUMMEL: Children's Tracksuit Top: 49,95TL - Children's Tracksuit Bottom: 59,95TL - Children's Sweatshirt: 59,95TL - Children's Shoes: 99,95TL (starting prices)
 LC WAIKIKI OUTLET: Girls' Tracksuit Bottom: 19,90TL - Tights: 19,90TL - Boys Tracksuits Bottom: 29,90TL (starting prices)
 NIKE FACTORY STORE: Child Sweatpants: 159,90TL - Children's Shoes: Rs.19,95 (starting at)
 PANÇO OUTLET: Children's Sweater: 19,50TL - Children's Trousers: 19,50TL - Children's Pants: 29,50TL - Children's Shirt: 29,50TL - Children's Coats:     59,50TL (starting prices)
 PENTI OUTLET: Child Athlete (2 Piece): - Children's Pajamas: 49,95TL (starting prices)
 PUMA: Children's Bag: 110,00TL - Children's Sweatshirt: 130,00TL - Children's Shoes: 180,00TL (starting prices)
 SKECHERS: Girls' Shoes: 119,50TL - Boys' Shoes: 148,85TL (starting prices)
 TOYZZ SHOP: Lego: 14,94TL - Boubou Real Looking Voice Baby: 74,99TL - Soncon 1/18 Light Car with Remote Control: £ 0.99 (from starting prices)
 US POLO ASSN .: Girls' Tracksuit Bottom: 45,00TL - Boys Tracksuits Bottom: 49,00TL - Children's Sweatshirt: 39,95TL - Children's Shirt:   50,00TL - Children's Pants: 80,00TL (starting prices)
 UNDER ARMOR: Girls' Tracksuits Top: 59,90TL - Girls Tracksuits Bottom: 79,90TL - Girls' Shoes: 149,90TL - Boys Tracksuit Top: 159,90TL - Boys Tracksuits Bottom: 179,90TL - Boys' Shoes: 199,90TL (prices starting from)
For more information : +90 262 335 31 70 - OUTLET CENTER İZMİT
Deniz ÖZSOY GİTGEL e-mail: deniz.ozsoy@outletcenter.com.t is