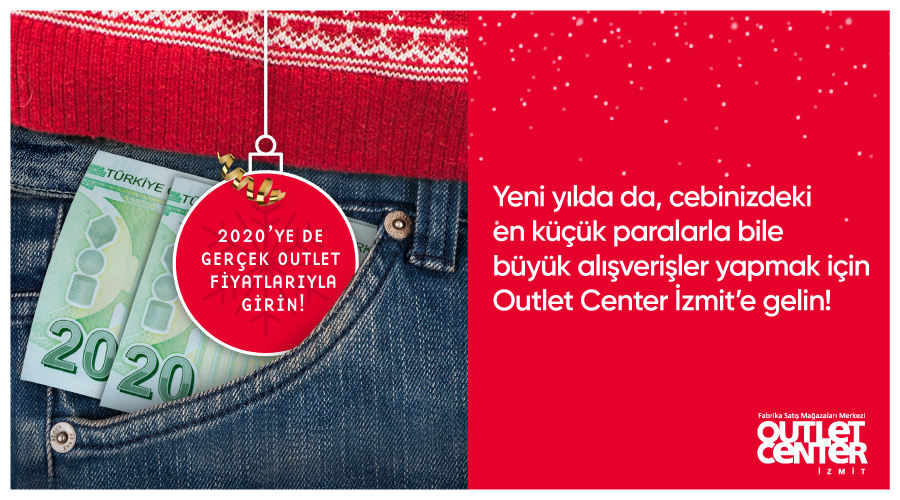 Outlet Center İzmit for New Year Shopping and Entertainment
We would like to welcome everyone who wants to spend photographs in the snow globe to the Outlet Center İzmit.
Each snow globe has a different story. Describes childhood. We see the snow globes as the new year approaches. Everyone has at least one old snow globe that has witnessed childhood and happiness.
At Outlet Center İzmit, we invite everyone into the indispensable snow globe of the new year. From Saturday 21 December 2019 to Friday evening 03 January 2020, for 14 days, a giant snow globe with a 4m diameter will capture entertaining moments and will be the center of attention for those who like to share fun photos on social media. In addition to the giant snow globe, the snow from the snow machine and the bubbles from the bubble machine will delight the children.
Also, on the weekend days until Friday evening, January 03, 2020, the photo taken in the snow globe to the authorized person will be presented to the customers. The giant snow globe, which will make the year 2020 unforgettable by taking a souvenir photo, will be on December 21, 2019 - January 03, 2020 and the snow machine will be on 28 - 29 - 31 December 2019 at the Outlet Center İzmit.
When you come to Outlet Center İzmit for big shopping even with the smallest money in your pocket, have fun with the activities to be held.
Make your Christmas shopping at Outlet Center İzmit and get world famous brands at outlet prices. Outlet Center Izmit will be open until Tuesday, December 31, 2019 until 20.00, and on Wednesday, January 01, 2020 from 12.00 until 22.00. As of Thursday, January 2, 2020, it will continue to serve between 10.00 - 22.00.
Outlet Center Izmit is preferred to live all the special and important days in terms of both affordable and enjoyable; as well as profitable shopping for customers; especially for children, the program prepared a series of fun activities to increase the enthusiasm of the new year.
If weather conditions are appropriate, Outlet Center İzmit New Year Event Program is as follows;
Saturday, December 28, 2019 / Sunday, December 29, 2019 / Tuesday, December 31, 2019
Santa Claus & Christmas Mum characters for children animation activity and distribution of various gifts (12.00 – 18.00)
Various shows with juggler (14.00 – 17.00)
Saturday, December 28, 2019 / Sunday, December 29, 2019
Music Group Concert (13.30 – 15.30)
—
Outlet Center Izmit stores in the new year for you because of the new year;
ATASAY OUTLET: Earring: $ 400.00 - Wristband: 600,00TL - engagement: $ 465.00 (starting prices)
ATASUN OPTICS: Sunglasses: 89,00TL (starting prices)
THE WORLD OF SHOES: Boat: £ 7.99 - Children's Boots: $ 0.99 - Men's Sports Shoes: £ 7.99 (starting from prices)
BAMBI: Bag: 59,90TL - Babette: 69,90TL - Boat: £ 0.99 (from starting prices)
BEYMEN BUSINESS: Knitwear: £ 6.99 - Monte: 179,99TL Shirt (2 Piece): Suit: $ 199.99 (starting prices)
CALVIN KLEIN: Women's Pants: $ 69.99 - Men's Pants: $ 69.99 - Monte: $ 99.99 (starting prices)
CENTO to: Shirt: 79,90TL - Trousers: £ 7.99 - Suit: 35.99TL (Prices starting at)
COLIN'S: Women's Sweaters: $ 19.95 - Men's Shirt: $ 39.95 - Trousers: $ 50.00 - Monte: $ 159.95 (starting prices)
DOUBLE DEER KARACA: Knitwear: £ 7.99 - Shirt (2 Pieces): Trousers (2 Pieces): $ 0.99 - Coat: 499.99 (starting prices)
defacto: Kazakh: $ 0.99 - Trousers: $ 9.99 - Trousers: $ 9.99 - Women's Cardigans: £ 9.99 - Sweatshirt: £ 0.99 (starting prices)
DERİMOD WAREHOUSE: Women's Shoes: 79,90TL - Men's shoes: $ 119.99 - Bag: 149,90TL - Leather jacket: $ 199.99 (starting prices)
DUFY OUTLET: Shirt: 69,90TL - Trousers: 99,90TL - Jacket: 249,90TL - Suit: 299,90TL (Prices starting at)
ENZA HOME: Double Blanket: 80,00TL - Double Duvet Cover: $ 88.00 (starting prices)
FLOOR: Sport shoes: £ 9.99 - Boat: £ 0.99 (from starting prices)
HATEMOĞLU: Shirt: £ 9.99 - Trousers: £ 9.99 - Monte: $ 0.99 - Suit: 39.99TL (Prices starting at)
HUMMEL: Shoe: 60,00TL – Children's Shoes: 80,00 - Kids clothing: 60,00TL – Women's T-shirt: Men's T-shirt: $ 19.99 (starting prices) 
KEMAL TANCA: Men's shoes: $ 69.99 - Women's Shoes: $ 29.99 (Prices starting at)
LC WAIKIKI OUTLET: Men's T-shirt: $ 9.99 - Men's Shirt: £ 6.99 - Men's Pants: $ 9.99 - Women's Jacket: £ 7.99 - Women's Coats: £ 0.99 (from starting prices)
LC WAIKIKI OUTLET KIDS: T-shirts: $ 9.99 - Trousers: £ 6.99 - Kazakh: $ 19.99 - Monte: £ 0.99 (from starting prices)
LEE COOPER: Kazakh: $ 0.99 - Trousers: £ 6.99 - Monte: $ 99.99 (starting prices)
LEVI'S: T-shirts: £ 7.99 - Polo Neck T-shirt: $ 69.99 - Shirt: $ 0.99 - Men's Pants: $ 99.99 (starting prices)
MADAME MOSS: Vest: 9,90TL - Sweatshirt: 19,90 – Coat: 99,90TL - Trousers: 29,90TL (starting prices)
BLUE: Women's Pants (2 Pieces) Men's Sweater: £ 7.99 - Men's Trousers (2 Piece): Shirt (2 Piece): Monte: $ 59.99 (starting prices) 
MINEL OUTLET: Scarf / Shawl: $ 10.00 - Sweatshirt: $ 60.00 - Sweat Cap: $ 39.00 - Monte: $ 85.00 (starting prices)
NETWORK: Shirt: £ 7.99 - Shoe: £ 7.99 - Trousers: $ 69.99 - Jacket: $ 1.99 - Suit: $ 199.99 (starting prices)
NIKE FACTORY STORE: T-shirts: 89,90TL - Children's Shoes: $ 69.90 - Shoe: $ 88.00 (starting prices)
OUTLET VAKKO: Shirt: $ 3.99 - Scarf: £ 7.99 - Suit: $ 99.99 (starting prices)
PALLET SHOES: Shoe: 50,00TL (starting prices)
PANÇO OUTLET: Socks: US $ 2.00 - Zıbınlık: $ 0.99 - Overalls: $ 9.99 - Pajama Set: $ 9.99 - Dress: £ 7.99 (from starting prices)
PENTI OUTLET: Socks: US $ 2.50 - Boots for house: £ 6.99 - Pajamas Set: $ 19.99 (starting prices)
PIERRE CARDIN: Shirt: $ 25.95 - Trousers: $ 39.95 - Suit: $ 196.95 (starting prices)
PUMA: Shoe: $ 0.99 - Sweatshirt: £ 9.99 - T-shirts: $ 2.99 (starting prices)
PALE: Shirt: £ 9.99 - Trousers: $ 3.99 - Jacket: $ 99.99 - Suit: 39.99TL (Prices starting at)
SKECHERS: Bag: £ 7.99 - Women's Shoes: $ 99.99 - Men's shoes: $ 99.99 (starting prices)
TIFFANY & TOMATO: Kazakh: $ 0.99 - Trousers: $ 3.99 - Shirt: $ 3.99 - Monte: $ 59.99 (starting prices)
TOMMY HILFIGER: Women's Sweatshirt: 99,90TL - Skirt: $ 119.99 - Women's Pants: 129,90TL - Men's Polo Neck T-shirt: 129,90TL - Men's Pants: $ 69.99 - Women's Jacket: 299,90TL (Prices starting at) 
TOYZZ SHOP: Audible Baby: $ 3.99 - Lego: $ 0.99 - Robot: $ 69.99 - Barbie Portable Home: $ 3.99 (starting prices)
Turkcell: Protective Glass: $ 10.00 - Phone case: $ 10.00 - Headphone: $ 20.00 - Charger: $ 20.00 - Iphone Charger Tool: 100,00 (starting prices)
US POLO ASSN .: Men's Knitwear: $ 69.99 - Women's Sweaters: $ 69.99 - Shirt: $ 3.99 (starting prices)
UNDER ARMOR: T-shirts: £ 7.99 - Sports Bag: £ 7.99 - Sweatshirt: $ 99.99 - Women's Shoes: $ 1.99 - Men's shoes: (Only starting from)
WATSONS: Hair dye: $ 6.99 - Lipstick: $ 6.99 - Nail Polish: $ 6.99 - Razor blade: $ 9.99 - Toothpaste: $ 6 (from starting prices)